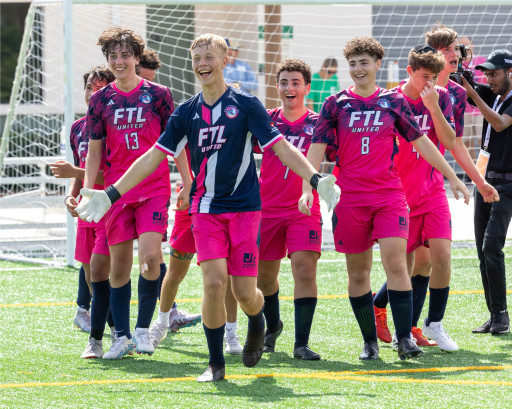 DAVIE, Fla., September 21, 2023 (Newswire.com)
–
The 2023 JCC Maccabi Games® & Access, hosted by the David Posnack Jewish Community Center (DPJCC) in Fort Lauderdale, Florida, have concluded with resounding success and heartfelt gratitude to the community that made it all possible. This week-long celebration of sports, camaraderie, and inclusivity has left a lasting impact, thanks to the dedicated efforts of our generous supporters.
Close to 2,000 Jewish teen athletes aged 12-16, representing communities worldwide, gathered in Fort Lauderdale to experience the joy of sports and the power of inclusion. The Games, presented by the JCC Association of North America, offered an unforgettable Olympic-style experience filled with competitions, opening and closing ceremonies, community service, social and cultural events, and opportunities to create Jewish connections that will last a lifetime.
One of the highlights of this year's event was the introduction of JCC Maccabi Access, brought to you by UKG and presented by the Posnack Family Foundation. This program is designed to provide athletes aged 12-18 with intellectual and developmental disabilities an inclusive Maccabi experience. This three-day program, held in conjunction with the 2023 JCC Maccabi Games®, exemplified the event's commitment to inclusivity and diversity.
Scott Ehrlich, CEO of the David Posnack Jewish Community Center, reflected on the Games, stating, "We were overjoyed to welcome Jewish athletes from all corners of the world to Broward County for the 2023 JCC Maccabi® Games & Access. Our heartfelt appreciation goes to our JCC Maccabi Team led by our Co-Chairs, Lori and Mitch Green, Debby and Dennis Eisinger, Davia and Jim Mazur, and Missy and Dan Longman. Their unwavering commitment contributed significantly to establishing an atmosphere that nurtured camaraderie, inclusiveness, and the genuine essence of the Games."
The Games' success was significantly bolstered by the support of honorary co-chairs Scott Scherr, founder of Ultimate Software, and Scot Hunter, co-founder of Emerald Multi-Family Office. Their encouragement to business owners and the backing of corporate and community partners played a pivotal role in the event's success.
Supporting Corporate Sponsors:
Emerald Multi-Family Office
Southern Glazer's Wine & Spirits
Official Torch Sponsor: Duty-Free America
Kent Security
Official Beverage Sponsor: Coca-Cola 
The Meltzer Group
Official Transportation: Sponsor Comcast 
Official Media Partner: Clear Channel Outdoor 
Official Produce Sponsor: ProEx International
Official Pun, Pass, and Kick Sponsor: Miami Dolphins
Official Basketball Sponsor: Miami HEAT
Official Baseball Sponsor: Miami Marlins
Official Cleaning Company Sponsor: AK Building Services
Official Swimming Sponsor: Blavatnik Family Foundation 
Northland Investments
Official V-VIP Dinner Sponsor: Aroma Market & Catering
Custom Outfitters LLC
FP&L
Greenspoon Marder
Manne Foundation for Homeless Prevention
Official Mitzvah Sponsor: Children's Services Council of Broward County
The 2023 JCC Maccabi Games® & Access were not just about competition; they were also about giving back to the community. The JCC Cares Mitzvah Projects showcased the spirit of service, assembling over 1,000 Rosh Hashanah food baskets for Goodman JFS Seniors and Holocaust Survivors, donating over 2,500 pairs of new sneakers to students, in partnership with Children's Services Council of Broward County, and repurposing 340 medals for the "We Finish Together" organization, spreading kindness to ill children and adults in hospitals.
Among the highlights:
Approximately 10,000 spectators attended the Opening Ceremony at FLA Live Arena.
1,620 visiting athletes.
21 Access participants.
375 Coaches & Chaperones.
850 Community Volunteers.
600 Host Families.
215 Local Athletes & Access participants representing Team Fort Lauderdale.
64 delegations, including international representation from Israel, Ukraine, Argentina, South Africa, Mexico, Canada, Great Britain, and 53 cities throughout the USA.
100 Local businesses and individuals generously supporting.
110,000 bottles of Dasani water, Powerade, and soda provided by Coca-Cola.
47,000 pounds of ice used.
20,000 meals served.
300 athletes and coaches wrapped tefillin daily.
As the Games came to a close, the resounding message was one of unity, inclusivity, and the power of community. The 2023 JCC Maccabi Games® & Access will be remembered not only for the athletic achievements but also for the lasting friendships, cultural exchanges, and shared experiences that will continue to enrich the lives of all those who participated.
For more information about the 2023 JCC Maccabi Games® & Access and how you can support future events, please visit dpjcc.org.
Contact Information:
Rixys Alfonso
Corporate Sponsorship Consultant
305-558-8877
Scott Ehrlich
Chief Executive Officer
954-434-0499, ext. 313
Related Images
Original Source:

With Nearly 2,000 Athletes, the 2023 JCC Maccabi Games & Access, North America's Largest Jewish Teen Sports and Community Building Event, Leaves a Lasting Impact
The post With Nearly 2,000 Athletes, the 2023 JCC Maccabi Games & Access, North America's Largest Jewish Teen Sports and Community Building Event, Leaves a Lasting Impact first appeared on RSVTV news.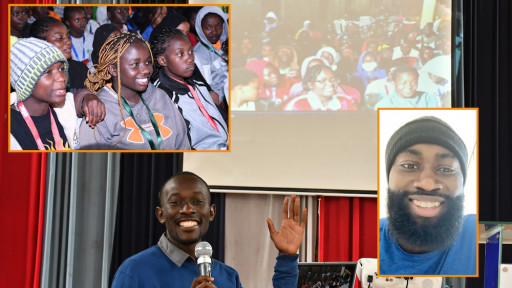 Kenyan Scholars Get a Motivational Boost from the NBA All-Star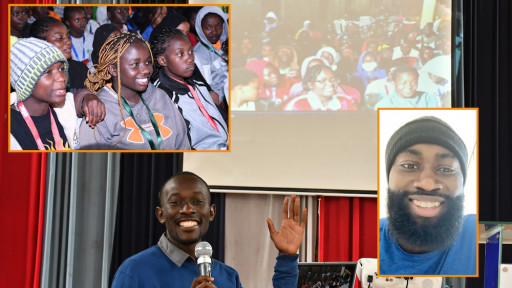 NBA All-Star Jaylen Brown with EFAC Scholars
Education For All Children (EFAC) recently hosted NBA All-Star and 7uice Foundation leader Jaylen Brown for a motivational Q&A with the program's high school students.

PORTSMOUTH, N.H., September 21, 2023 (Newswire.com)
–
Education For All Children (EFAC) recently welcomed Boston Celtics player and founder of The 7uice Foundation Jaylen Brown at one of their annual workshops. An exceptional athlete and social justice advocate, Brown set a goal to expand his footprint as a global citizen in 2023. The synergy between the two organizations led to this initial engagement with EFAC Scholars in Kenya.
In late August, over 200 students from EFAC's high school program gathered in Nairobi, Kenya, for the annual Bridge-to-Success Workshop. This week-long residential workshop brings together students from all over Kenya to collaborate with EFAC staff and volunteers, ensuring their success in the coming school year. EFAC's program focuses on mental health and wellness, building leadership and communication skills, and honing practical skills, such as digital and financial literacy. With The 7uice Foundation's Bridge Program emphasis on social-emotional wellness, leadership development, and resilience coaching, Brown opened the workshop with a live, interactive Zoom call with the students to set the stage for the week.
Students prepared questions for Brown ahead of time, and a lucky few got to speak with him directly. Quinanne, a 10th-grade student who aspires to become an inventor to solve food scarcity in desert regions, approached the microphone appropriately dressed in her tracksuit to ask, "What is one of the greatest lessons you have learned in life?" Brown's resounding message to the EFAC Scholars was, "There are a lot of lessons that life will teach you. But there's one lesson that I've learned and I think it applies to sports, it applies to music, it applies to school, it applies to everyday life. And that is to have confidence. Never let somebody break your spirit, never give somebody the power to break your spirit."
"That a renowned athlete and advocate would take the time to speak with our scholars and provide such generous advice and encouragement means the world to them. The warmth and energy was palpable throughout the interaction. These young people come from backgrounds where their future is not guaranteed, their education often ends before 8th grade, and they are often not convinced that they are valued even after they've achieved more than they could have imagined. Events like this reinforce the truth that they matter and give them confidence to fulfill their dreams and make a difference," commented EFAC Country Director, Mary Kiguru.
As the leading education-to-employment program in Kenya, EFAC continues to grow in size, scope, and depth of impact. Matt Gianino, U.S. Executive Director of EFAC notes, "There is an African proverb that illustrates a core tenet of how EFAC optimizes its impact. It is, 'If you want to go fast, go alone, but if you want to go far, go together.' Collaborations with like-minded organizations like The 7uice Foundation and education and empowerment champions like Jaylen Brown are critical to the long-term success of the young people we serve. By sharing his perspectives as an educator and activist as well as life-changing lessons he has learned along his journey, Mr. Brown has helped raise the gaze of future change-makers in Kenya."
###
About Education For All Children (EFAC):
EFAC is an 8-year education-to-employment program serving Kenyan youth who demonstrate strong academic ability and leadership potential and who would otherwise be unable to continue their education beyond 8th grade for socioeconomic reasons. EFAC supports students in their academic, social and pre-professional development throughout high school, college and into their careers. EFAC was co-founded in 2008 by philanthropists Rod and Nancy Van Sciver of Rye, NH and African education leader Prof. Leah Marangu of Kenya, who became the country's first female professor at Kenyatta University in 1978 and then its first female university Vice Chancellor at Africa Nazarene University in 1996. EFAC currently operates offices in Portsmouth, NH and Nairobi, Kenya, with active programming across Kenya. The program's ultimate goal is to develop tomorrow's professionals and leaders, creating paths out of poverty that transform their own lives and positively impact their families, communities, and country. www.efac.org
About Jaylen Brown:
In July 2023, Brown signed a five-year, supermax contract extension with the Boston Celtics. The deal is the most valuable deal in NBA history. A first-round top three draft pick in the 2016 NBA Draft, Brown joined the Boston Celtics at just 19 years old. He has since achieved two-time All-Star player status, is Vice President of the National Basketball Players Association (making him the youngest member of the executive committee in 2019 and reelected for 2023). As Vice President of the NBPA, Brown aided in the creation of THINK450, which helps NBA players gain control of their name and likeness. A community builder on and off the court, Brown hosts a Rookie event, during NBA summer league, in efforts to build connection amongst players. Brown's decisively clear devotion to social justice, especially changing the inequity in the education system, has led him to regularly be considered one of the most enlightened and intelligent athletes in the league. 
About The 7uice Foundation:
Founded by Jaylen Brown, The 7uice Foundation collaborates with institutions, organizations, and social change leaders to bridge the opportunity gap for traditionally underserved Black and Brown communities. In the United States, The 7uice Foundation's signature initiative is the 'Bridge Program', a multi-day workshop focused on leadership, emotional literacy, and education for Black and Brown youth. This year the program hosted students from Boston public schools and worked in collaboration with the MIT Media Lab on a STEAM based program. Outside partners inclusive of NASA, the Boston Museum of Fine Arts and many individual leaders also participated to inspire these bright scholars. www.the7uicefoundation.org
Contact Information:
Jen Henriquez
Communications Director
(603) 207-1088
Original Source:

Jaylen Brown Takes Advocacy International With EFAC
The post Jaylen Brown Takes Advocacy International With EFAC first appeared on RSVTV news.
'Red Corner Blue Corner' & 'Rivals Down South' Set to Kick Off Sept. 25

CHICAGO, September 21, 2023 (Newswire.com)
–
Stadium announced Thursday a new pair of SEC and Big Ten-focused college football shows hosted by former stars of both respective conferences. "Red Corner Blue Corner" will be hosted by former Michigan TE Jake Butt and former Ohio State LB Joshua Perry, and "Rivals Down South" will be piloted by three-time national champion and former Alabama QB A.J. McCarron alongside former LSU OL T-Bob Hebert. 
Both shows, which will welcome fan participation, hit the airwaves on Sept. 25.
"Red Corner Blue Corner" is a college football show inspired by the OSU-Michigan football rivalry. The Big Ten-focused program will exclusively cover college football's oldest conference while tapping into each of its die-hard fan bases. Fans will be encouraged to chat and interact with the show every Monday-Thursday from 2-2:30 p.m. ET.
"We had some epic showdowns at the Big House and Horseshoe over the years, so getting a chance to face off on the mic every day will be fun," Butt and Perry said. "We're good friends, but when we put our Wolverine and Buckeye hats on, all bets are off."
"Rivals Down South" will air every Monday-Friday from 2:30-3 p.m. ET. This all-SEC, debate-style program will offer its own style of Southern Hospitality with an interactive format, allowing all 14 fanbases to join in on the conversation every afternoon. 
"It was a privilege playing in the best conference in all of sports, and now we get to interact with the best fans in all of sports every afternoon," Hebert and McCarron said. "Stadium is the perfect home for a show like this because it allows us to tap directly into the heart of SEC football—its fans. We can't wait to share our past experiences and current insights through countless conversations and debates over the coming months."
Both shows will run until Jan. 11.
Stadium is set to launch its new mobile app later this year to host all programming and fan interactions. Until then, viewers can interact with Stadium and its shows on Stadium's YouTube channel or through the Bally Live app, and they can watch on almost every streaming distributor, including YouTubeTV, The Roku Channel, FuboTV, Amazon, SamsungTV Plus, Tubi and more.
About Stadium
With a reach of over 165 million subscribers across YouTube TV, Amazon, SamsungTV Plus, Roku, FuboTV, and others, Stadium is an interactive sports broadcasting network that mixes the power of fan engagement with great talent-led content. Backed by best-in-class live programming, Stadium leads the charge in fan-first sports viewing experience by allowing fans to interact directly via chat or through live polls and trivia during shows. Free for viewers since starting the first 24/7 fast channel, Stadium is the only sports content source to offer this blend of programming, fan-led interactions and experience-driven loyalty program. For more, visit www.watchstadium.com.
Contact Information:
Kevin Loughery
(317) 523-5800
Original Source:

Stadium Announces Launch of Big Ten, SEC Focused Football Shows Hosted by Former Conference Stars
The post Stadium Announces Launch of Big Ten, SEC Focused Football Shows Hosted by Former Conference Stars first appeared on RSVTV news.