Owner of Breeches.com, JPC Equestrian, to Have a Booth at the 2022 WESA Trade Show Event in Dallas, Texas
Come visit JPC Equestrian at the WESA Trade Show event, being held from August 25 to August 28 at the Dallas Market Center in Dallas, Texas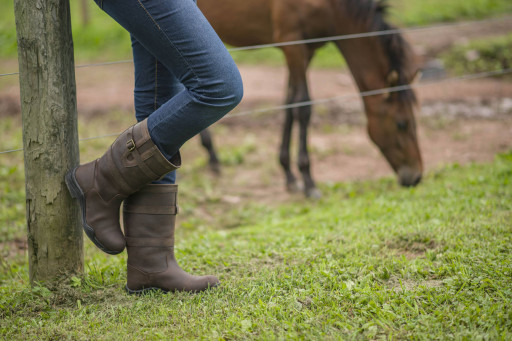 TuffRider Boots
Image of a woman wearing TuffRider boots
DALLAS - August 26, 2022 - (
Newswire.com
)
The owner of Breeches.com, JPC Equestrian, is appearing at the 2022 WESA Trade Show Event in Dallas, Texas. JPC Equestrian, a manufacturer specializing in equestrian apparel, footwear, tack, and more, will be joining more than 3,700 other industry leaders at the WESA Trade Show event, taking place August 25-28 in Dallas, Texas. 
Visitors to the JPC Equestrian booth will get a chance to speak with the manufacturer's team about how to choose high-quality equestrian products and make the best selections for themselves and their horses. They will also be showcasing top products from TuffRider, including TuffRider Western Boots and TuffRider Casual Western Footwear. Event-goers may also visit the booth for additional information about the brand AWST International. 
Since 1921, WESA has been bringing together some of the biggest innovators in the equestrian market to show off the latest and greatest new products in Western/English apparel and equipment. WESA Trade Shows are "Where the Industry Meets," and this year's event will include more than 200,000 square feet of exhibit space.
JPC Equestrian is excited to be a contributing exhibitor to the 2022 WESA Trade Show. Come say hello, and don't miss this great chance to also discover best-selling products.
About AWST International
AWST International, owned by JPC Equestrian, is a globally focused supplier of equestrian-inspired specialty accessories and gifts. Through its ever-growing selection of handbags, jewelry, scarves, and more, horse lovers are able to display their passions in everyday wear, with no shortage of fun and stylish pieces to choose from.
About TuffRider
TuffRider, also owned by JPC Equestrian, is one of the industry's most trusted brands specializing in riding breeches and other must-have apparel for riders of all ages. Their Western Boots and Casual Western Footwear selections are some of the best choices for those looking for affordable quality, with unique features that ensure everyone gets their perfect fit.
WESA Trade Show Event Details
When: Thursday, August 25 to Sunday, August 28
Where: Dallas Market Center, Dallas, Texas
About Breeches.com
Breeches.com is a one-stop retail destination for shopping the very best in equestrian products, including show apparel, riding boots, saddles, tack, and more. Riders will find a range of premium brands from JPC Equestrian and more, plus the highest quality equestrian apparel and accessories. as well as a commitment to the community that includes significant investments in charity through the company's 501(C)3 accredited Salvation Tree Foundation and Salvation Tree School.
For more information, please visit www.breeches.com.
Contact:
Breeches.com
(888) 918-0566
[email protected]
Press Release Service by
Newswire.com
Original Source:
Owner of Breeches.com, JPC Equestrian, to Have a Booth at the 2022 WESA Trade Show Event in Dallas, Texas