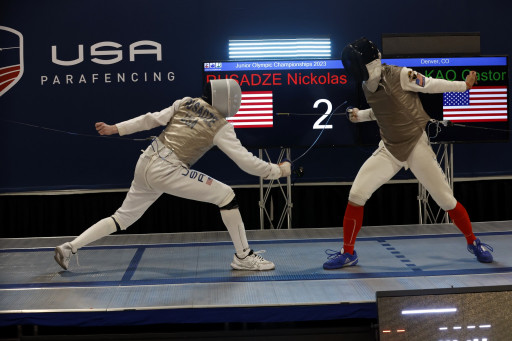 Rusadze shared this win with his coach (and father) Olympian Slava Grigoriev. His performance places him in fourth place nationally. Earlier this season, Rusadze won gold and silver on the international Cadet circuit.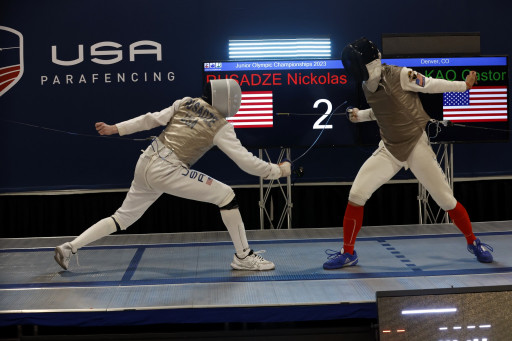 Nickolas Rusadze
Nickolas Rusadze Wins Gold at USA Fencing's Junior Olympics\n\nImage Credit: Serge Timacheff

DENVER, March 2, 2023 (Newswire.com)
–
Tim Morehouse Fencing Club announces that South Salem resident Nickolas Rusadze, who trains at the fencing club, is now a Junior Olympic gold medalist.
Competing in the Cadet Men's Foil Championship event at USA Fencing's Junior Olympics, Rusadze won gold in an event that featured 289 of the best Men's Cadet Foil fencers in the country. He trains at the Tim Morehouse Fencing Club in Port Chester, NY with his father and coach, two-time Olympian Slava Grigoriev (Kazakhstan).
Additionally, Rusadze won a fifth-place medal in Junior Men's Foil just two days before.
His cadet win puts the 15-year-old Rusadze in fourth place in the country for the under-17 foil fencers, narrowly missing the cut for the 2023 World Championship Team. His sights are set on making the 2024 World Championship Team.
This win is one of many racked up this season by this 15-year-old. He won gold at the Coupe de Danube 2023 in Bratislava, Slovakia, in the Cadet Men's Foil event in mid-January. Later that month, he won silver in Cadet Men's Foil at the Napoli Cadet International in Italy.
Rusadze, who attends John Jay High School in South Salem, NY, has emerged as one the most dominant cadet fencers in the world. But, his mother Eka Rusade says, "There is always room for improvement," adding, "Nickolas works a lot — he trains six times per week on average, balancing school and practice."
At the Junior Olympics, it is tradition for the coach of the winner to also get a medal. For a son and his father to share this accomplishment, it was a touching moment, particularly when Nickolas placed the medal around his father's neck.
"The time to celebrate has passed," says Grigoriev. "There are many tournaments in front of him and the main focus now is to maintain his level or raise the bar higher."
Rusadze will be back in action starting March 1 at the Junior & Cadet Pan-American Championships in Bogotá, Colombia. He will be representing the United States in the Cadet Men's Foil event.
The foil program at Tim Morehouse Fencing Club is one of the strongest in the country, thanks to Head Foil Coach Slava, who has built this program over the past four years.
Tim Morehouse Fencing Club has won the most National Youth medals for fencing four years in a row. The club has been ranked #1 in producing High School All-Americans three times and regularly places in the top five for most High School Academic All-Americans. Alumni of Tim Morehouse attend top schools around the country including Yale, Princeton, Columbia, Harvard, Notre Dame, MIT, and Penn State.
Tim Morehouse Fencing Club is the premier fencing club in the tri-state area, offering fencing instruction and competitive training in Manhattan, Westchester (Port Chester), and Connecticut (Stamford).
Contact Information:
Kate Waylett
317-886-8243
Original Source:

Tim Morehouse Fencing Club Fencer Nickolas Rusadze Wins Gold at USA Fencing's Junior Olympics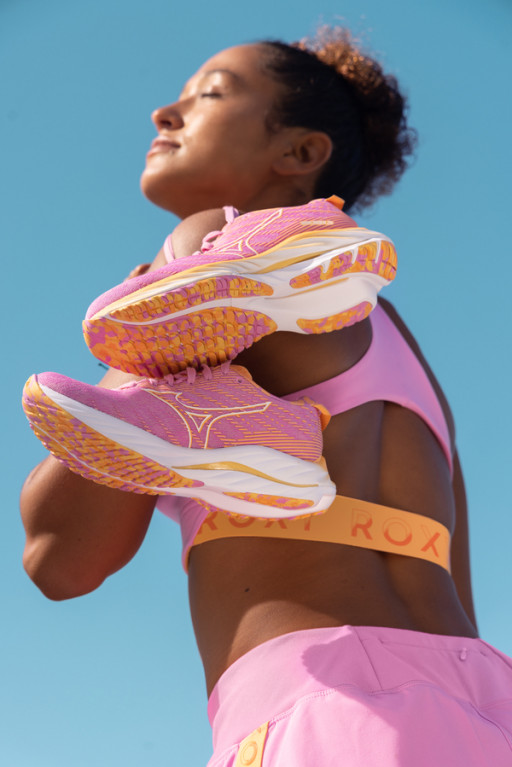 Mizuno's first collaboration with ROXY, a women's brand that originated on the beach.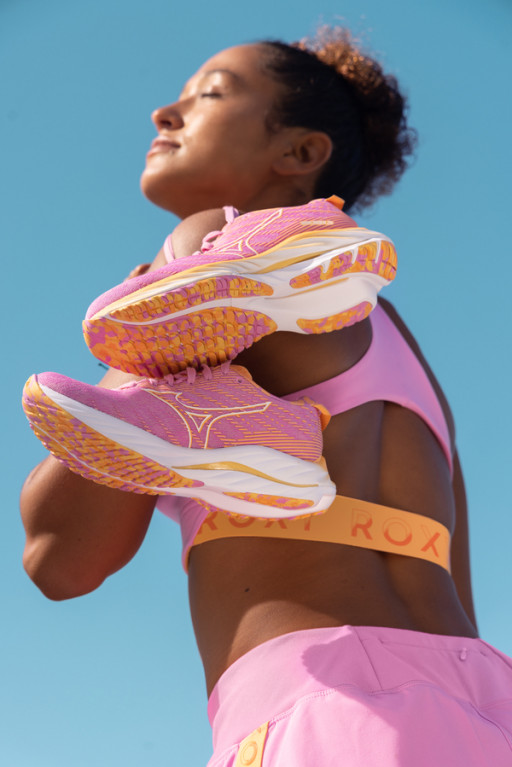 Mizuno x ROXY
Wave Rider 26 ROXY

PEACHTREE CORNERS, Ga., March 2, 2023 (Newswire.com)
–
On March 1, Mizuno will be releasing the "WAVE RIDER 26 ROXY," the brand's first collaborative running shoe with ROXY, a brand for women who love beach culture and active lifestyles. 
The collaboration between ROXY, a brand that celebrates women with positive energy and supports female athletes such as world-class surfers, and Mizuno, which encourages top athletes and sports enthusiasts to always go further under the brand slogan "REACH BEYOND," was realized as a result of their common aspirations. The collaboration was further strengthened by the two brands' shared commitment to global environmental preservation.
The collaborative model is based on the WAVE RIDER 26, a running shoe for beginner and intermediate runners. The shoe offers excellent comfort that will keep runners moving forward, and the sole is made with Mizuno's proprietary "MIZUNO ENERZY," a highly resilient sole material. In addition, Mizuno's core function, "MIZUNO WAVE," provides both cushioning and stability. They are available in two colorways, a warm pink combined with coral and turquoise, and the design incorporates a stylish surf spirit that will make anyone want to run from the beach to a favorite park.
The shoes are made with recycled polyester and plant-derived materials, and consideration is also given to reducing the environmental impact in the manufacturing process. Both brands have held the utmost respect for nature for almost 30 years, and their commitment and passion for protecting the global environment, which is our playground, have come together to create this product.
Features of the "WAVE RIDER 26 ROXY"
The WAVE RIDER series is Mizuno's most popular running shoe series, with over 10 million pairs sold globally since its debut in 1997, and is characterized by its smooth running comfort. The "WAVE RIDER 26," on which the "WAVE RIDER 26 ROXY" is based, is the 26th generation model in the series.
MIZUNO ENERZY
"MIZUNO ENERZY," which is used in the "WAVE RIDER 26 ROXY," is Mizuno's proprietary material that provides soft cushioning and high-energy return and was developed by utilizing the brand's extensive knowledge on resilience accumulated through the development of equipment outside the category of shoes as a general sporting goods manufacturer.
Made with environmentally friendly materials
The "WAVE RIDER 26 ROXY" is made of eco-friendly materials. Recycled polyester is used for the mesh upper and mesh lining material, and the "MIZUNO WAVE" plate is made with bio-based thermoplastic derived from castor beans.
Design
Based on the functionality, style, and femininity that the ROXY brand values, the shoe has adopted a design that is inspired by mountains and oceans. They are available in two colors, pink and coral, and turquoise, and can be matched with apparel products, including tops and bottoms from ROXY.
Contact Information:
Leila Taylor
Communications Specialist
7704537804
Related Files
Mizuno x Roxy PR.docx
Original Source:

Mizuno and ROXY Release 'WAVE RIDER 26 ROXY' Running Shoes