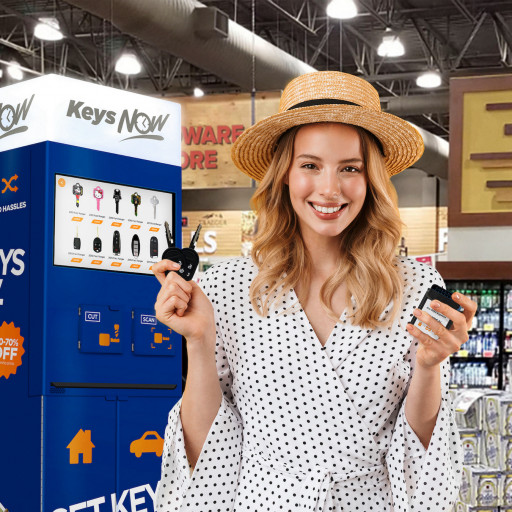 Car Keys Express Launches Its First-Ever Fully Automated 'Hands Free' Car Key Machines Designed for Hardware Retailers
Automotive - RSVTV news originally published at Automotive - RSVTV news
Keys NOW!

machines instantly replace car keys—including "smart" keys and high-security "laser-cut" keys, allowing hardware retailers to regain category dominance.
LOUISVILLE, Ky., April 18, 2023 (Newswire.com) - Car Keys Express, the U.S.-based global leader in automotive key replacement, introduces new Keys NOW! Automated Key MachinesTM configured to the needs of hardware retailers. Hardware stores in New England were the first to receive new units.
For more than 70 years, the hardware channel was the go-to destination for car key replacement. Early transponder keys could be duplicated cheaply and easily at every local hardware store.
But newer car keys must be paired with customers' vehicles and cannot be cloned. This requirement alone has deterred many hardware retailers from offering modern car keys. Those that do have struggled with difficult-to-use key machines and complicated programming equipment.
Car Keys Express eliminates the barriers preventing hardware retailers from succeeding in modern car keys. The new Keys NOW! machines combine hands-free, automated key duplication with easy app-based key pairing consumers can complete on their own.
Keys NOW! is the world's first and only fully-automated house and car key duplication machine. It's as easy to use as a microwave oven. Open the door, insert the key, then stand back. A precisely duplicated key is produced instantly. With traditional manual key-cutting machines, store employees fear making expensive miscuts, so they often avoid customers altogether. Keys NOW! machines eliminate human error, duplicating at near 100% accuracy, so anyone can cut keys accurately, safely, and instantly.
Because the machine does all of the cutting, key duplication requires 50% less associate time than legacy machines. The machines keep key inventory secure, eliminating most shrink. And unlike other key systems, consumers can engage with Keys NOW! to make product selections and confirm pricing on their own before a store associate completes their order. With new hardware configurations, consumers—not retailers—use a Universal EZ Installer to easily pair new car keys or remotes on their own using an app on their phone. That means retailers can stop sending their employees to the parking lot to work on customers' cars.
With Keys NOW! coverage topping 220 million vehicles, hardware retailers can finally stop directing customers to dealerships for keys. Now customers can instantly replace car keys without the time, expense, and hassle of a dealership service appointment.
"Hardware retailers turn away millions of customers simply because their key programs are out of date, expensive, and overly complicated," said Kirk Stewart, Chief Commercial Officer for Car Keys Express. "To succeed with modern keys, retailers must address complex inventory requirements, upgrade cutting equipment for new high-security keyblades, and spend the time to train employees on cutting and pairing equipment. We solved all of those issues with Keys NOW!"
"Entering the hardware segment with our Keys NOW! machines and EZ Installers is a milestone event," said Mark Lanwehr, Founder and CEO of Car Keys Express. "Our company mission from the beginning has been to make car keys simple and affordable again. By nature, this is disruptive to a multi-billion dollar OEM and dealership business model where consumer pricing is unchecked, leading to astronomical prices for car keys. Car Keys Express has leveraged technology to reduce prices for consumers and simplify key replacement for retailers, allowing them to again enter this profitable space and in the process solidifying Car Keys Express as the innovator in the key replacement category."
Now in its 20th year, Car Keys Express is disrupting the automotive key replacement industry, developing tools and keys that let retailers easily re-enter the high-margin car key business.
Be the first retailer in your market to offer car keys made "on the spot" with these fully-automated, easy-to-use solutions.
For more information or to request a store test, contact [email protected].
About Car Keys Express
Car Keys Express is a global leader in discount automotive key replacement for businesses and consumers. The company invented the world's first Universal Car Remote and Universal Car Keys and is the only company that manufactures a full line of aftermarket versions of modern car keys, like remote keys and smart keys. Car Keys Express offers a complete line of retail-friendly solutions to allow retailers to build a key replacement program or enhance an existing program. Car Care Express, a division of Car Keys Express, offers mobile vehicle reconditioning services for businesses and consumers. Founded in 2002, Car Keys Express is continually recognized for excellence in the industry, winning Inc. Magazine's, "Inc. 5000" in 2016, 2017, 2018, 2019, 2020, and 2021, AAPEX "Best New Product" Award in 2015 and 2019, Ernst and Young Entrepreneur of the Year® in 2017, and EnterpriseCorp's FAST Innovation Award Winner in 2017, among others. To learn more, visit www.CarKeysExpress.com.
Contact Information:
Bruce Burton
Marketing Manager, Car Keys Express
[email protected]
360-607-1949
Original Source:
Car Keys Express Launches Its First-Ever Fully Automated 'Hands Free' Car Key Machines Designed for Hardware Retailers
The post Car Keys Express Launches Its First-Ever Fully Automated 'Hands Free' Car Key Machines Designed for Hardware Retailers first appeared on RSVTV news.
Automotive - RSVTV news originally published at Automotive - RSVTV news