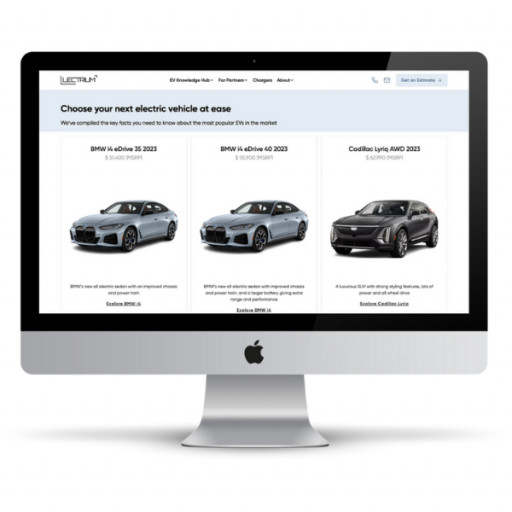 'Which EV is Right for Me?' Lectrium Launches a Suite of EV Tools to Provide the Answer
Automotive - RSV News originally published at Automotive - RSV News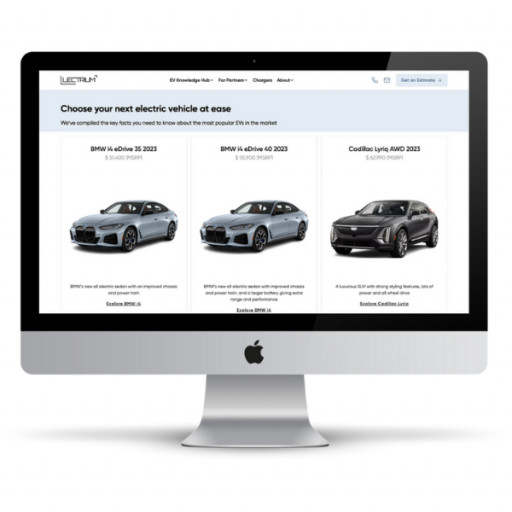 Lectrium EV pages
Find over 100 EV pages in Lectrium's EV Knowledge Hub
NEW YORK, February 7, 2023 (Newswire.com) - "Which electric vehicle is right for me?" is a question 44 million Americans will ask themselves over the next seven years. For most, this will be the first time purchasing an EV. Lectrium, a New York based EV technology company, is launching a suite of tools to help EV buyers navigate this transition, select their vehicle, and get a charger installed at home.
Electric vehicles and gas-powered cars are different vehicles, and the experience of purchasing these cars needs to be unique. EV shoppers no longer consider traditional ICE features like transmission, oil changes, and tank size. Instead, for many EV buyers, the most important factors are range, battery size, charging times, and whether the vehicle qualifies for tax credits. Lectrium has launched an EV-guide to help people focus their car search on the right factors.
Lectrium's EV-guide takes two minutes to complete. It considers the individual's lifestyle, and asks a series of questions about driving habits and budget to help determine the best electric vehicle for them. Apart from being easy to use, their guide is interactive and a fun way to research different EV models.
With over five times more electric vehicles available in the market today than in 2015, and dozens more expected in 2024, the decision to purchase an electric vehicle requires some additional research and knowledge that is normally not found in traditional online car platforms, like Autotrader or Cars dot com. This knowledge gap is particularly noticeable when trying to find information about charging a specific vehicle. Now, for every available make and model in the U.S., these statistics are easily accessible and comparable for EV shoppers through Lectrium's car pages.
Lectrium started by helping homeowners across the USA with their Level 2 home charger installations, a service they still offer today to EV owners looking for an affordable and convenient way to charge at home. While working with consumers and dealerships, the Lectrium team has found themselves answering questions about which EV should someone purchase. To answer these questions, Lectrium has published information about range, charging times, battery sizes, and tax credit eligibility for every 2023 EV model.
Further, consumers can even find the closest and best-priced EVs and plug-in hybrid electric vehicles (PHEVs) near them by visiting Lectrium's EV listing page. Listings will soon be shown across the USA, but for now find them if you live in FL, NJ, and PA. If there are OEMs who would like to help their dealerships reach a highly engaged audience in their area, Lectrium is interested in partnering to establish this process.
Lectrium is here to guide EV buyers down the path best suited for their needs; this starts with selecting the right vehicle, and ends with reliable EV charging at home.
Contact Information:
Camila Notaro
[email protected]
Original Source:
'Which EV is Right for Me?' Lectrium Launches a Suite of EV Tools to Provide the Answer
Automotive - RSV News originally published at Automotive - RSV News